Ready-To-Go Templates And Tools For Fearless Founders
With contract blueprints and resources designed for creatives by a creative, your business bedrock will be legally sound in just a few simple steps! These documents are simple and comprehensive. It's time to breathe a sigh of relief and know that your contract has you covered no matter what.
BROWSE ALL
Shop Contract Templates By Type ➞
Why the Artist's Lawyer?
Because you and I both understand what it takes to be an artist. The difference is, I passed the bar exam so you don't have to.
Let's Get Legally Legit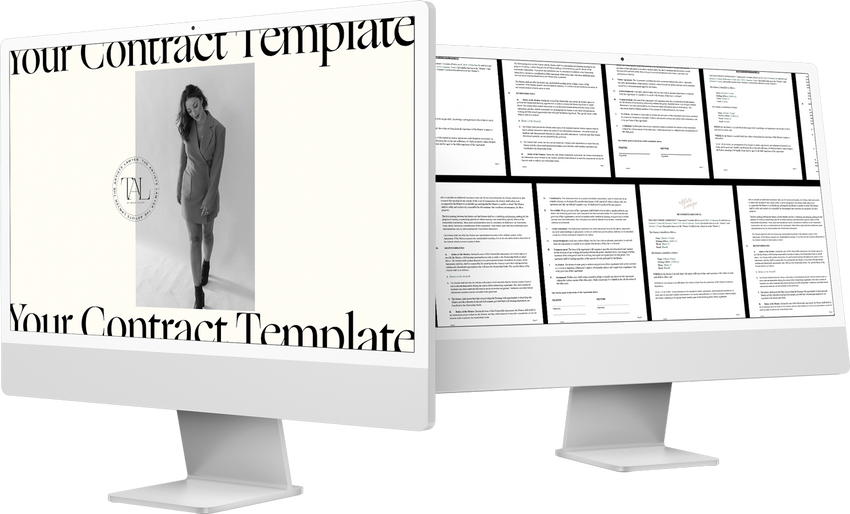 Browse More Contracts
The Latest

Best Selling

Bundle + Save
The Artists' Lawyers Templates + Tools Are:
Meticulous + Methodical
Crafted with a thorough understanding of both law and the creative fields, Magi's contracts and business tools are a necessary framework for any artistic entrepreneur. 

Easily Customizable
Designed specifically for artists by an artist, these detailed blueprints can be customized to fit your business needs with just a few minor tweaks.

Clear + Simple
Free of confusing jargon and unnecessary legal language, Magi's documents are straightforward and easy to follow for both you and your clients.

Include Lifetime Updates
No need to worry about legal documentation ever again. These agreements serve your business for life with access to the latest version whenever you need it. 
"5 Stars - Magi's Master Contract for Wedding Planners is extremely detailed"
"and provides a comprehensive overview of everything a well-versed industry professional needs to concern themselves with. Although the pandemic caused many of us to revisit our contracts, Magi's contract has built further confidence in our process and services, defining and managing expectations in a very clear and concise manner. Magi is a sweet, creative soul that I would highly recommend working with! She is well equipped to help you prepare for the foreseen challenges ahead."
"I seriously could not have made it through 2020 without such a thorough contract like Magi provides."
"As I move into a more seasoned time in my career, I know how important it is to be legally covered for ALL the things that you can encounter when working with clients, and having peace of mind knowing that I'm protected helps me sleep at night. I confidently send my contracts out now and I know they don't miss a beat, AND I know that it protects my interests and my clients. The contracts were also so easy to customize to my specific business needs, and I hope all creatives invest in peace of mind whether you're at the beginning of your career or a seasoned professional. Magi and her contracts are the real deal!
"As a wedding planner, I know a good contract when I see one."
" I spent so much time pouring over vendor contracts for my clients making sure that everyone involved is protected. When I read Magi's Wedding Planner contract, I felt a huge sigh of relief. While I have always felt confident in my contract, I knew that Magi had thought through everything and that all my bases were covered. I know my clients will feel confident signing such a professional and thorough document and I feel such peace of mind knowing that both a creative and a lawyer was the mastermind behind this. She doesn't skip any of the nuanced details that go into planning a wedding. She truly covered everything. These are amazing and an asset that every wedding planner needs to invest in."
"Finally we have a clear and concise contract that provides the comprehensive protection our creative work requires!"
"Magi Fisher's contract has given us the confidence to work through any question or issue that may arise. We feel so well protected. It perfectly covers our needs as a wedding industry vendor while balancing both the technicalities and subjectiviness that coincide with producing wedding films for our clients. It is a relief to now have a contract that will stand the test of time for our business!"
"Magi's contract is extremely well thought out, professional, easy to understand and not convoluted with over wording."
"This contract is tailored specifically for your area of business. As a farmer-florist, there were protections included we didn't even think of to add! She went above and beyond to include clauses regarding flower availability, pandemic and reschedules that made us feel confident for protecting our new business going forward. Magi was amazing to work with and well worth the investment. I wish I had selected this as our contract prior to purchasing others floating around on the web!"
Blushing Fields Flower Farm
"Magi's contracts are incredibly thorough and in-depth."
"My previous contract was drafted by a lawyer and left me vulnerable to potentially damaging situations that could have arisen. As a photographer herself, Magi doesn't leave out anything. She understands the challenges that we may encounter in our line of work and has built contracts to protect our businesses so we can serve our clients to the best of our ability. Hands down, these are the best contracts you can get your hands on!"
"If you're a wedding planner, this contract is a must-have for your business."
"Magi's contract template includes clauses and and resources that I never even considered having to put in place. Above all she also helped me understand that though this contract may seem long and intimidating, it is put in place to not only protect my business, but also to protect the client. It's an outline for a healthy working relationship and I feel so much more confident booking new clients knowing that these clauses are outlined clearly and it helps eliminate questions from either side. Magi's tips on the side of the contract also allow you to easily edit this to fit your business model and what feels right to you."
"I'm literally blown away from Magi's contracts!"
"They are the best and most comprehensive contracts I have ever seen in my 10 years as a wedding photographer. Each and every clause is easy to read and understand as the vendor and especially for the client. Simply put, they are going to protect you, your business, and ensure that you have an airtight agreement for all your weddings. These are a MUST HAVE contracts!!"
Business Planning Tools & Guides
From worksheets and checklists to guides and email response bundles, these easy-to-use tools will save you valuable time because let's be honest, researching trademarks and copyrights is stressful and exhausting. I know... I've done it! Pour your energy into the elements of your business that only YOU know how to do. Go forth and foster your creativity, fellow creative!
free resources
Tools + Takeaways For Making Business A Breeze.
With hundreds of resources claiming to improve your daily workflow, deciding on an appropriate application for your needs can be a daunting, and often costly task. Simplify the process (and your operation!) with my favorite tools and takeaways for creative entrepreneurs.
see what works